+ Administrative Announcements
January 11, 2014
After receiving some requests from users, we have decided to start adding 'metaphysical applications' to our mineral articles. At this point it is very important to point out that no one at MIROFOSS has any detailed information about metaphysical properties, and MIROFOSS does not accept or deny claims that minerals have spiritual and healing powers. We are simply placing this information on our articles as a reference to show what some people do with minerals; very similar to the 'industrial applications' of minerals. At MIROFOSS we always state that minerals should not be consumed and with the addition of metaphysical properties, we also would like to state that minerals should not be used in place of proper medical and psychological care. If you have questions about the healing properties of minerals, we can direct you to web sites that may be able to assist you in answering your questions.
December 28, 2013
HAPPY NEWYEAR!
With the start of the new year fast approaching, it is also a time to reflect on the year that has just passed. Within the first week of 2014, we will be publishing our first ever 'Facts and Figures' statistics for the 2013 calendar year. This report will be open for all to read under the main help menu. We want to track general web traffic so we can see how many people are interacting with our pages and the affect of social media on the web site.
December 17, 2013
MERRY CHRISTMAS
With Christmas fast approaching, everyone at MIROFOSS would like to send holiday greeting to everyone. We have placed our holiday message at the start of our "Focus on Minerals - v6" which can be found on You Tube by clicking -here-
December 04, 2013
We are all saddened for the tragic events that took place due to Typhoon Haiyen. Our video "Focus on Minerals - v5" is dedicated to the victims, as well as the victim's families, that have been affected by the devastating natural disaster. Our video can be seen by clicking -here-
November 15, 2013
We would like to announce the beginning of a new aspect of the MIROFOSS database; MIROFOSS ORGANICS. This new section of MIROFOSS will contain photo samples and detailed information about many different types of plant life. From flowers and weeds, tree and moss, aquatic plants and fungus. We will build this section of MIROFOSS with the same detailed research we have used since the start of the database.
October 24, 2013
Why click and read when you can watch? MIROFOSS is happy to announce that we have posted our first You Tube video. At this current time we are just looking at producing image slide shows but hopefully into 2014 we will begin to create lab experiments, lessons, and tutorials which will all be available on our You Tube channel. Visit our channel by clicking -here-
September 30, 2013
We have starting creating a small little legal document in regards to the collection of information on our web site as well as photographic and intellectual property. We pride ourselves on the fact that we do not share personal information with anyone and we will legally stand by that. This document will cover all the basics of personal property, privacy of information, and the guidelines that govern this web site. Please note that this web site is administrated in Canada and we cannot cater a legal document for every jurisdiction in the world. Our legal page can be found -here-
August 10, 2013
WELCOME TO MIROFOSS!
Today is the first day that our database servers have been put online. The MIROFOSS web page is currently in alpha testing mode so there are a few bugs and fine tuning issues that need to be resolved. We have currently opened sections of our mineral gallery as well as two rock articles for our rock gallery. We will have our fossil, as well as sand and silt, galleries hopefully running in early 2014. We have also begun to create our site map as well as a help menu just incase you get stuck. We will begin creating our database search function when we have the manpower to due so. Hope you are enjoying your visit to our site; and please remember: Except for page donations, MIROFOSS will never place third party advertisements on any of our articles.
+ Construction Announcements
January 18, 2014
We have completed approximately 50% of our new mobile interface for the MIROFOSS database. We are currently focusing on getting the mobile interface completed for the mineral gallery. After the mineral gallery is complete we will move onto the rock gallery; afterwards we will update the organics gallery. A completion time is pending for this update because we are also updating certain toolbars as well as making some coding adjustments on certain pages. It is our intention to complete the mobile update before beginning to add any more articles to the database. This is because we want everything running smoothly before we add more information that we may need to correct down the road.

In other construction news, we have completed a 'mobile index' page with graphics and links to direct users to the mobile galleries. As of January 18, 2014 we only have a mobile mineral gallery but we thought it would be important to start building the mobile index framework so it would be easier for users to use the mobile site. This mobile index however is only the first draft and may be modified and adjusted in the future.

We have also decided to create a bug report form for users to fill out if they discover an error or glitch on one of our pages. TRhis bug report form will be avalible in the 'help' section on the website.

January 11, 2014
A slight bug was brought to our attention regarding the mobile articles found here on the MIROFOSS web site. The issue was that when viewing the mobile site on an iPhone, the text along the right side of the screen was very hard to read because it was clipped. This issue was caused by two factors. The first factor was that we did not initialize "cell padding" on any of the article pages which caused an issue because the mobile table stretched to the absolute end of the screen. The second factor was that the mobile drop-down boxes each had a small 1 pixel border around the text area. We have removed the pixel border around the text areas and we have inserted a 5 pixel cell padding along the right and left sides of the screen. This should eliminate the text being clipped along the sides. If you are still experiencing problems after you have refreshed your web browser. Please contact us.
December 01, 2013
We have begun the construction of a mobile friendly section of the database which we have called "MIROFOSS MOBILE" This mobile version of our articles will contain larger font, bigger toolbar buttons, and optional image download to save on your mobile bandwidth. We understand that many people use their mobile devices these days and we want to cater our database for that group of people as well as computer users. Due to the fact that many different manufactures use different scripts to detect mobile web sites; we have left that decision to the user. On each MIROFOSS page there will be an icon that shows a computer and a smart phone. By clicking on the icon, you can easily switch between the mobile and full site. This is a major upgrade to MIROFOSS and may take some time to complete. We are optimistic that we can complete the update by the early months of 2014. Due to this major update, there will be a few graphical issues that you may notice within the database. These issues are due to the fact that we are slightly changing our graphical user interface to incorporate the mobile site switchover button, as well as finish a previous update to allow sponsorship of pages through the MIROFOSS foundation.
November 15, 2013
USER SUGGESTION
We have received a suggestion from one of our users about a 'home' button on some of our MIROFOSS pages. It was suggested that we place a button so that users can get to the main index page without having to go through the 'search database' link. We are going to study this idea and attempt to work a home button into each gallery index page. In the future to get to the main index you will simply click 'home' on the article to return you to the gallery index, then 'home' on the gallery index to return you to the main index. That is the plan... Not quite sure how we will do it yet though.
October 02, 2013
With the design and implementation of a legal page referencing the MIROFOSS database; We have decided that a link should be accessible for people to view this legal document. At the same time, on advice of one of our page users, we would like to create a more graphically professional image icon for each article. Over the next few months we will be changing the toolbar located in the image section of the article to something that is more resembling of the main toolbar found on each page.
+ MIROFOSS Foundation News
September 30, 2013
We have officially founded the MIROFOSS foundation. The MIROFOSS foundation will be a non-profit organization devoted to promoting Earth Science to all people through the Internet and social media; and to do what we can to assist those who may not have the means to pursue education in Earth Science. Funds for the MIROFOSS foundation will be generated through private donations, page sponsorships, sales on images on photo web sites, and possible You Tube advertisement revenue. These funds will be used for the upkeep and maintenance of mirofoss.com as well as distributed in the form of scholarships for students wishing to pursue Earth Sciences. More information about the MIROFOSS foundation will be posted when it becomes available.
+ Social Media Updates
January 10, 2014
We have decided that we will begin placing interesting MIROFOSS facts on our Facebook Foundation page each week. These facts will be informative and humorous and we encourage people to add comments and create conversation. THe MIROFOSS facebook page is not a highly used aspect of our social media compared to our main web site and our instagram page. We will work to try to get our Facebook page more publicly known through out the course of the year.
November 20, 2013
We are proud to report that we have received our 50,000th like for the photos we share on Instagram. With 402 users and 300 images that is a great number to see. Thank you to the Instagram community for inspiring us to continue to use social media for mirofoss.com. -

Instagram is a free and fairly simple photo enhancement app that requires only a couple of touches to produce great-looking images.
+ How Did We Do (2013)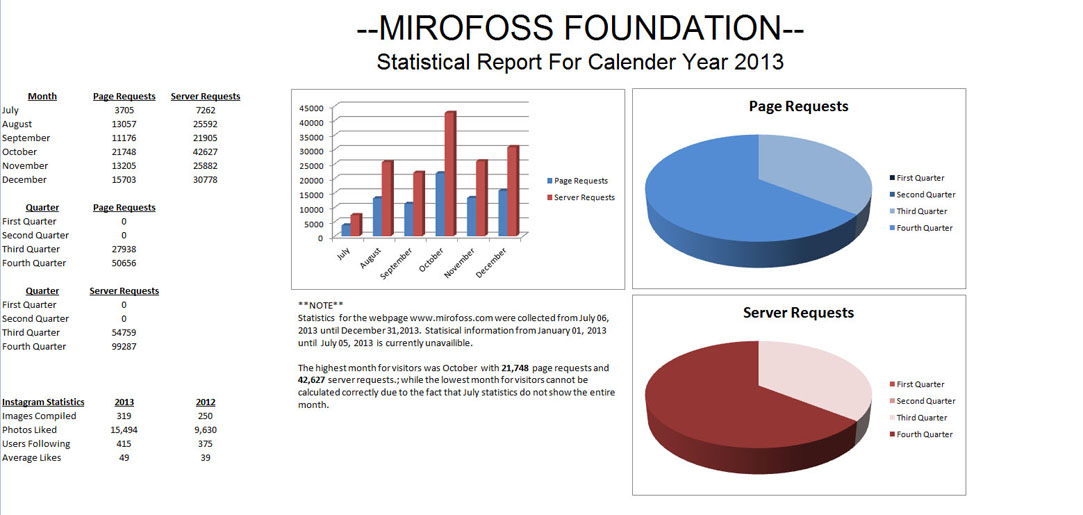 + News Archives
There is currently no news in the archives