Lesser celandine is a low-growing, hairless perennial flowering plant in the buttercup family. Lesser Celandine has fleshy dark green leaves with distinctive yellow flowers. The plant is found throughout Europe and west Asia and has also been introduced in North America, where it is known by the common name fig buttercup; and where it is often considered invasive. Lesser celandine has sometimes been called the "spring messenger" in some texts due in part to the early bloom time of the species. In North America, various conservation authorities recommend avoiding planting lesser celandine, and instead planting native ephemeral wildflowers instead. Lesser celandine is known to be an aggressive weed which can outcompete early blooming native plants. The genus name "Ranunculus" roughly translates to little frog, which alludes to the leaf shape of the leaves of the plant. The species name "Ficaria" translates to fig, which could possibly be a relation to the shape of plants tubers.


There is currently no commercial application for lesser celandine.


Within the realm of rational and holistic medicine, lesser celandine has been used for the treatment of hemorrhoids and ulcers. The whole plant, including the roots, is used as an astringent. It is harvested when flowering in March and April and dried for later use. It is widely used as a remedy for piles. An infusion can be taken internally or it can be made into an ointment and used externally. The plant is not professionally recommended for internal use because it contains several toxic components and can cause irritation to sensitive skin.
Please note that MIROFOSS does not suggest in any way that plants should be used in place of proper medical and psychological care. This information is provided here as a reference only.


The young leaves of lesser celandine, found in the early spring, have been historically used, raw or cooked, as a potherb. The first leaves in spring make an excellent salad. The leaves, stalks and buds can be used like spinach, whilst the blanched stems are also eaten. The leaves turn poisonous as the fruit matures. Caution is advised regarding the use of this plant for food due to toxicity of the plant.
Please note that MIROFOSS can not take any responsibility for any adverse effects from the consumption of plant species which are found in the wild. This information is provided here as a reference only.


Lesser celandine grows in shaded areas, along streams and waterways, as well as in waste places. Lesser celandine is suitable for: light (sandy), medium (loamy) and heavy (clay) soils. Suitable pH: acid, neutral and basic (alkaline) soils. It can grow in semi-shade (light woodland) or no shade. It prefers moist soil. Lesser celandine is known for attracting insects, especially honey bees and bumble bees.
| | |
| --- | --- |
| Soil Conditions | |
| Soil Moisture | |
| Sunlight | |
| Notes: | |


Lesser celandine is a low growing perennial plant only reaching a height of up to 25cm. The leaves of the lesser celandine plant or fleshy and cordate with a dark green colour. The flowers of lesser celandine are a distinctive bright yellow with glossy petals. Ranunculus ficaria exists in both diploid (2n=16) and tetraploid (2n=32) forms which are very similar in appearance. However, the tetraploid type prefer more shady locations and frequently develops bulbils at the base of the stalk. These two variants are sometimes referred to as distinct sub-species, Ranunculus ficaria and Ranunculus ficaria bulbilifer respectively.

Plant Height
12cm to 25cm
Habitat
Shorelines, waste places, lawns, bare disturbed ground
Leaves
Cordate 3cm to 6cm long
Leaf Margin
Sinuate
Leaf Venation
Palmate
Stems
Smooth stems
Flowering Season
March to May
Flower Type
Bilaterally Symmetrical
Flower Colour
Yellow
Pollination
Bees, Insects
Flower Gender
Flowers are hermaphrodite and the plants

are self-fertile

Fruit
Small seeds in a swollen capsule
USDA Zone
4A (-31°C to -34°C) cold weather limit


The following health hazards should be noted when handling or choosing a location to plant lesser celandine:
TOXICITY


Lesser celandine contains toxic chemicals which can cause illness or death if the plant is not prepared properly.

SKIN IRRITANT
The sap of lesser celandine can cause skin irritation for certain skin types.

INVASION ALERT
Lesser celandine is a highly invasive species and is banned by many jurisdictions for deliberate cultivation. Check with local conservation authorities before attempting to cultivate this species.

| | |
| --- | --- |
| | -Click here- or on the thumbnail image to see an artist rendering, from The United States Department of Agriculture, of lesser celandine (This image will open in a new browser tab) |

| | |
| --- | --- |
| | There is currently no seed or bulbs images for lesser celandine in the MIROFOSS database. |


Lesser Celandine can be referenced in certain current and historical texts under the following two names:
Lesser Celandine can be translated into the following select languages:
| | | | | | |
| --- | --- | --- | --- | --- | --- |
| Arabic | بقلة الخطاطيف أقل | Bulgarian | малка жълтурчета | Chinese (Sim) | 较小的白屈菜 |
| Croatian | manje rusa | Czech | Orsej jarní | Danish | mindre celandine |
| Dutch | speenkruid | Esperanto | malplia celidonia | Estonian | Mukulaleinikki |
| Finnish | mukulaleinikki | French | ficaire | German | Scharbockskraut |
| Greek | μικρότερο φικαρία | Hebrew | נרקיסים פחותים | Hungarian | salátaboglárka |
| Italian | | Japanese | 少ないクサノオウ | Korean | 작은 애기똥풀 |
| Punjabi | | Lithuanian | mažiau ugniažolės | Norwegian | mindre celandine |
| Persian | مامیران کبیر کمتر | Polish | mniej jaskółcze ziele | Portuguese | menor celandine |
| Romanian | mai mică rostopasca | Russian | меньше чистотела | Slovak | Blyskáč jarný |
| Spanish | celidonia menor | Swedish | svalört | Tagalog | mas kakaunti halaman ng selandine |
| Turkish | basurotu | Ukrainian | менше чистотілу | Vietnamese | cây hoàng ít |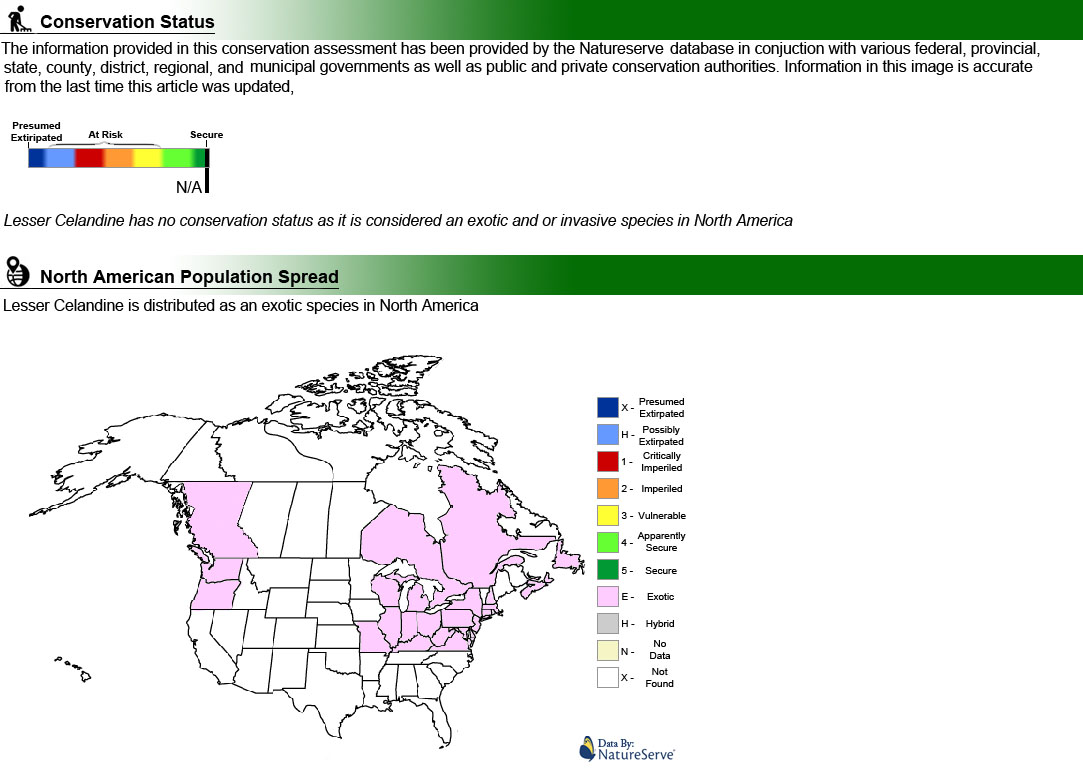 The MIROFOSS database offers free printable garden tags for personal and non-profit use. These tags can be used to properly identify plant samples in a garden. Click on the tags shown on the the screen or -click here- to download a full size jpeg image for a lesser celandine identification tag; which can be printed on paper or used with a plastic laser printer.

What's this?
This is a QR code (short for Quick Response) which gives fast-track access to MIROFOSS articles. QR Codes are barcodes that can be read by smart phone cameras. This QR Code is unique to this MIROFOSS article.

What can I do with it?
You can copy and print the QR code to a plant label, poster, book, web site, magazines, or newspaper so smart phone users can scan the QR Code which automatically takes them to this specific article.

Description
Dickinson, T.; Metsger, D.; Bull, J.; & Dickinson, R. (2004) ROM Field Guide to Wildflowers of Ontario, Royal Ontario Museum, Toronto:McClelland and Stewart Ltd.
Description
Swearingen, J., K. Reshetiloff, B. Slattery, and S. Zwicker (2002). "Lesser Celandine". Plant Invaders of Mid-Atlantic Natural Areas. National Park Service and U.S. Fish & Wildlife Service, Washington, D.C.
Description
Hatfield. A. W. How to Enjoy your Weeds.
Folklore
F. Chittendon. RHS Dictionary of Plants plus Supplement. 1956
Image Rendering
USDA-NRCS PLANTS Database / USDA NRCS. Wetland flora: Field office illustrated guide to plant species. USDA Natural Resources Conservation Service.
Environment
National Audubon Society. Field Guide To Wildflowers (Eastern Region): Alfred A. Knopf. ISBN 0-375-40232-2
Physical Identification
National Audubon Society. Field Guide To Wildflowers (Eastern Region): Alfred A. Knopf. ISBN 0-375-40232-2
January 28, 2016
The last time this page was updated
©2021 MIROFOSS™ Foundation