Spotted Jewelweed, Impatiens capensis, is an annual plant native to North America. Spotted Jewelweed is common in bottomland soils, ditches, and along creeks, often growing side-by-side with its less common relatives Yellow Jewelweed as well as Pale Spotted Jewelweed. The species name "capensis", meaning "of the cape", is actually a misnomer, as Nicolaas Meerburgh was under the mistaken impression that it was native to the Cape of Good Hope, in southern Africa. Impatiens capensis was transported in the 19th and 20th centuries to England, France, the Netherlands, Poland, Sweden, Finland, and potentially other areas of northern and central Europe. These naturalized populations persist in the absence of any common cultivation by people. This jewelweed species is quite similar to Impatiens noli-tangere, an Impatiens species native to Europe and Asia, as well as the other North American Impatiens. No evidence exists of natural hybrids, although the habitats occupied by the two species are very similar.


Spotted Jewelweed is harvested as a natural remedy for poison ivy rashes.

Within the realm of rational and holistic medicine, the best known use for spotted jewelweed is as an antidote against poison ivy rashes. Crushed stems of the spotted jewelweed plant can be rubbed directly on the exposed skin and the mucilaginous fluid that is released is able to neutralize the oily antigens in poison ivy. The fluid from spotted jewelweed has also been used in the past for countering toxins from other plants such as poison oak and okra. Aboriginal people have also used spotted jewelweed for treating inspect bites, razor burn, and injuries inflicted from stinging nettles.
Please note that MIROFOSS does not suggest in any way that plants should be used in place of proper medical and psychological care. This information is provided here as a reference only.


The seeds of spotted jewelweed are considered edible and have a walnut-like flavour. The young succulent stems can be cooked like green beans; however, caution is advised due to the fact that the plant contains calcium oxalate that can cause a burning sensation in the mouth and throat. Young shoots should be boiled for 10-15 minutes in two changes of water which should destroy most of the calcium oxalate. The water the plants were boiled in should not be consumed.
Please note that MIROFOSS can not take any responsibility for any adverse effects from the consumption of plant species which are found in the wild. This information is provided here as a reference only.


Spotted Jewelweed grows along the banks of rivers, ditches, swamps, and canals, also in low-lying moist woodlands. Suitable for: light (sandy), medium (loamy) and heavy (clay) soils and can grow in heavy clay soil. Suitable pH: acid, neutral and basic (alkaline) soils. It can grow in semi-shade (light woodland) or no shade. It prefers moist soil. Spotted jewelweed is known for attracting certain bird species.
| | |
| --- | --- |
| Soil Conditions | |
| Soil Moisture | |
| Sunlight | |
| Notes: | |


Spotted jewelweed is an annual plant that grows 60cm to 150cm in height with 4cm to 9cm long alternate and thinly ovate leaves. The leaves appear to be silver or 'jewelled' when held underwater, which is possibly where the jewelweed name comes from. The flowers of spotted jewelweed are orange with a three-lobed corolla; one of the calyx lobes is coloured similarly to the corolla and forms a hooked conical spur at the back of the flower. Plants may also produce non-showy cleistogamous flowers, which do not require cross-pollination. Nectar spurs are tubular elongations of petals and sepals of certain flowers that usually contain nectar. Flowers of spotted jewelweed have these nectar spurs. Nectar spurs are thought to have played a role in plant-pollinator coevolution. Curvature angles of nectar spurs of spotted jewelweed are variable. This angle varies from 0 degrees to 270 degrees. The angle of the nectar spur is very important in the pollination of the flower and in determining the most efficient pollinator. Hummingbirds are the main pollinators. They remove more pollen per visit from flowers with curved nectar spurs than with perpendicular nectar spurs. Hummingbirds are not the only pollinators of spotted jewelweed. Bees play an important role in pollination as well. Due to hummingbirds and bees, the pollination of spotted jewelweed is very high.
Other than in the basic natural form, spotted jewelweed can be found in one distinct variety:


Plant Height
60cm to 150cm
Habitat
Moist Woods, shaded wetlands, shorelines
Leaves
alternate 4cm to 9cm long
Leaf Margin
Crenate
Leaf Venation
Pinnate
Stems
smooth stems
Flowering Season
July to October
Flower Type
Bilaterially Symmetrical
Flower Colour
Orange
Pollination
Bees, hummingbirds
Flower Gender
Flowers are hermaphrodite and the plants

are self-fertile

Fruit
small seeds in a swollen capsule
USDA Zone
4A (-31°C to -34°C) cold weather limit


The following health hazards should be noted when handling or choosing a location to plant spotted jewelweed:
POSSIBLE TOXICITY


Spotted Jewelweed contains large amounts of calcium oxalate which can cause severe digestive upset, breathing difficulties, convulsions, coma, and possibly death if large enough quantities are consumed.

| | |
| --- | --- |
| | -Click here- or on the thumbnail image to see an artist rendering, from The United States Department of Agriculture, of spotted jewelweed. (This image will open in a new browser tab) |

| | |
| --- | --- |
| | -Click here- or on the thumbnail image to see a magnified view, from Prairie Moon Nursery, of the seeds created by spotted jewelweed for propagation. (This image will open in a new browser tab) |


Spotted Jewelweed can be referenced in certain current and historical texts under the following four names:
Spotted Jewelweed can be translated into the following select languages:
| | | | | | |
| --- | --- | --- | --- | --- | --- |
| Arabic | | Bulgarian | | Chinese (Sim) | |
| Croatian | | Czech | | Danish | |
| Dutch | | Esperanto | | Estonian | |
| Finnish | | French | | German | |
| Greek | | Hebrew | | Hungarian | |
| Italian | | Japanese | スポッティング鳳仙花 | Korean | |
| Punjabi | | Lithuanian | | Norwegian | |
| Persian | گل حنا خال خال | Polish | | Portuguese | |
| Romanian | | Russian | | Slovak | |
| Spanish | | Swedish | | Tagalog | |
| Turkish | | Ukrainian | | Vietnamese | |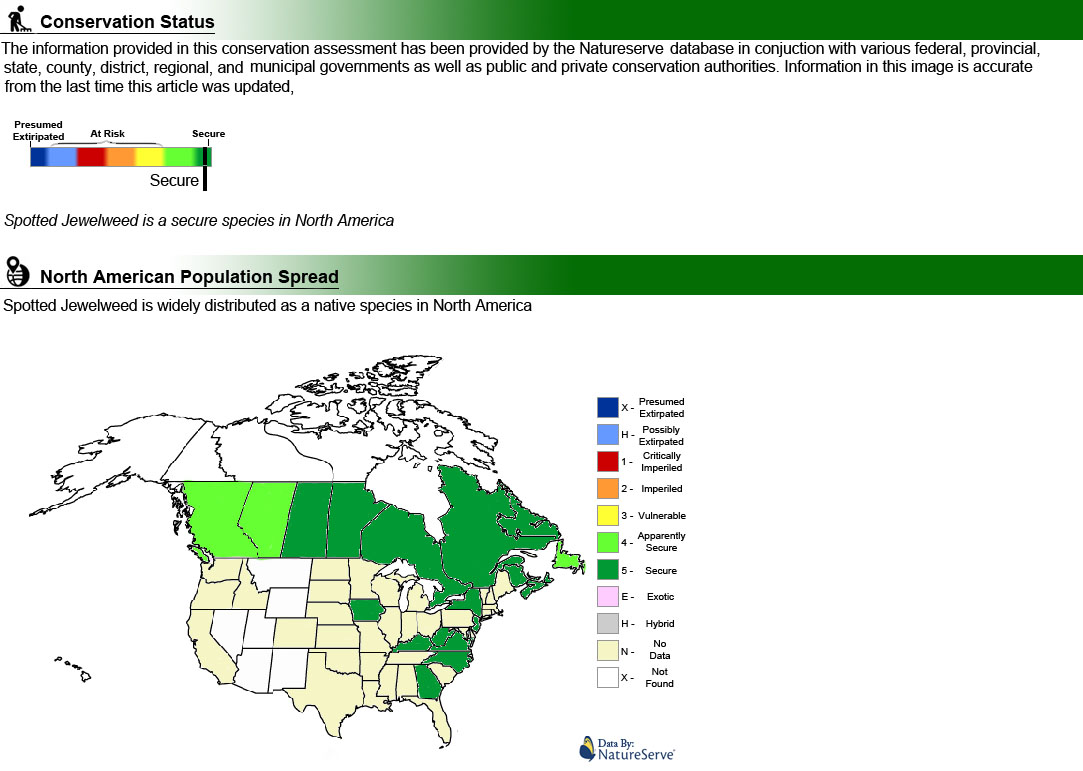 The MIROFOSS database offers free printable garden tags for personal and non-profit use. These tags can be used to properly identify plant samples in a garden. Click on the tags shown on the the screen or -click here- to download a full size jpeg image for a spotted jewelweed identification tag; which can be printed on paper or used with a plastic laser printer.

What's this?
This is a QR code (short for Quick Response) which gives fast-track access to MIROFOSS articles. QR Codes are barcodes that can be read by smart phone cameras. This QR Code is unique to this MIROFOSS article.

What can I do with it?
You can copy and print the QR code to a plant label, poster, book, web site, magazines, or newspaper so smart phone users can scan the QR Code which automatically takes them to this specific article.

Description
Dickinson, T.; Metsger, D.; Bull, J.; & Dickinson, R. (2004) ROM Field Guide to Wildflowers of Ontario, Royal Ontario Museum, Toronto:McClelland and Stewart Ltd.
Description
Strausbaugh, P.D. & Core, E. L. (1964) Flora of West Virginia. 2nd ed. Seneca Books Inc., ISBN 0-89092-010-9

Description
Travers, Steven E; Temeles, Ethan J; Pan, Irvin (2003). "The relationship between nectar spur curvature in jewelweed (Impatiens capensis) and pollen removal by hummingbird pollinators". Canadian Journal of Botany
Folklore
MacKinnon, Kershaw, Arnason, Owen, Karst, Hamersley, Chambers. 2009. Edible & Medicinal Plants Of Canada
ISBN 978-1-55105-572-5
Image Rendering
USDA-NRCS PLANTS Database / USDA NRCS. Wetland flora: Field office illustrated guide to plant species. USDA Natural Resources Conservation Service.
Environment
National Audubon Society. Field Guide To Wildflowers (Eastern Region): Alfred A. Knopf. ISBN 0-375-40232-2
Physical Identification
National Audubon Society. Field Guide To Wildflowers (Eastern Region): Alfred A. Knopf. ISBN 0-375-40232-2
September 02, 2015
The last time this page was updated
©2021 MIROFOSS™ Foundation