Monkshood is a species of flowering plant in the buttercup family. Monkshood is native to western and central Europe. Monkshood is grown in gardens for its attractive spike like inflorescence and showy blue flowers; however, care should be taken when planting monkshoods due to the substantial toxicity of the plant. The genus name Aconitum means "poisonous plant". Plants native to Asia and North America that were formerly listed as Aconitum napellus are now regarded as separate species. Monkshood is a highly toxic plant. At first the toxins stimulates the central and peripheral nervous system and then paralyses it. Other symptoms of poisoning include a burning sensation on the tongue, vomiting, stomach pain and diarrhoea. Simple skin contact with the plant has caused numbness in some people. The root contains 90% more poison than the leaves.


There is no commercial applications for monkshood.

Within the realm of naturopathic medicine and folklore, monkshood has been used in holistic medicine since ancient times, especially as an antidote to poisoning. Since the entire plant is itself very toxic, however, any use should be under the guidance of a skilled practitioner. All parts of the plant are used medicinally. The root is the most important and this is harvested as soon as the plant dies down in the autumn and is dried before use. The root is analgesic, anodyne, antirheumatic, diaphoretic, diuretic, irritant and sedative. Due to its poisonous nature, it is not normally used internally though it has been used in the treatment of fevers. Externally, it is applied to unbroken skin in the treatment of rheumatism, painful bruises, and neuralgia. All parts of the plant, except the root, are harvested when the plant is in flower and used to make homeopathic medicine.
Please note that MIROFOSS does not suggest in any way that plants should be used in place of proper medical and psychological care. This information is provided here as a reference only.


Some reports suggest the root is edible if cooked, however these should be treated with extreme caution due to the HIGHLY TOXIC nature of the plant.
Please note that MIROFOSS can not take any responsibility for any adverse effects from the consumption of plant species which are found in the wild. This information is provided here as a reference only.


Monkshood can grow in low woods along damp slopes. Monkshood is suitable for: light (sandy), medium (loamy) and heavy (clay) soils and can grow in heavy clay soil. Suitable pH: acid, neutral and basic (alkaline) soils and can grow in very acid and very alkaline soils. Monkshood can grow in semi-shade (light woodland) or no shade. It prefers moist soil. The leaves of the plant are known to deter wildlife.
| | |
| --- | --- |
| Soil Conditions | |
| Soil Moisture | |
| Sunlight | |
| Notes: | |


Monkshood is a herbaceous perennial plant growing 60cm to 120cm tall, with hairless stems and leaves. The leaves are rounded, 5cm to 10cm in diameter, palmately divided into five to seven deeply lobed segments. The tall, erect stem of the monkshood plant is crowned by racemes of large violet-blue flowers with numerous stamens. They are distinguishable by having one of the five petaloid sepals (the posterior one), called the galea, in the form of a cylindrical helmet; this is where the English name monkshood is derived from. There are two to ten petals in each flower; The two upper petals are large and are placed under the hood of the calyx and are supported on long stalks. They have a hollow spur at their apex, containing the nectar. The other petals are small and scale-like or non-forming. The three to five carpels are partially fused at the base. The fruit is an aggregate of follicles, a follicle being a dry many-seeded structure.


Plant Height
60cm to 120cm
Habitat
Damp woodlands
Leaves
10cm long palmately lobed
Leaf Margin
Dentate
Leaf Venation
Cross-Venulate
Stems
Weak straight stalks which often lean on other plants
Flowering Season
August to October
Flower Type
Rounded loose clusters of flowers
Flower Colour
Violet-Blue
Pollination
Insects
Flower Gender
Flowers are hermaphrodite and the plants

are self-fertile

Fruit
Small hard seeds with no visible pappus
USDA Zone
6A (-20°C to -23°C) cold weather limit


The following health hazards should be noted when handling or choosing a location to monkshood:

TOXIC


The whole plant is highly toxic, acting especially on the nerve centres.




| | |
| --- | --- |
| | -Click here- or on the thumbnail image to see an artist rendering, from The United States Department of Agriculture, of monkshood. (This image will open in a new browser tab) |

| | |
| --- | --- |
| | -Click here- or on the thumbnail image to see a magnified view, from Wikipedia Commons, of the seeds created by monkshood for propagation. (This image will open in a new browser tab) |


Monkshood can be referenced in certain current and historical texts under the following three names:
Monkshood can be translated into the following select languages:
| | | | | | |
| --- | --- | --- | --- | --- | --- |
| Arabic | | Bulgarian | омаяк | Chinese (Sim) | 附子 |
| Croatian | jedić | Czech | oměj | Danish | Stormhat |
| Dutch | monnikskap | Esperanto | | Estonian | |
| Finnish | | French | aconit | German | Eisenhut |
| Greek | | Hebrew | חוֹנֵק הַדוֹב | Hungarian | sisakvirág |
| Italian | | Japanese | トリカブト | Korean | 투구 꽃 무리 |
| Low Saxon | | Lithuanian | | Norwegian | |
| Persian | | Polish | tojad | Portuguese | |
| Romanian | | Russian | аконит | Slovak | prvosienka |
| Spanish | acónito | Swedish | monkshooden | Tagalog | halaman ng monksud |
| Turkish | boğanotu | Ukrainian | аконіт | Vietnamese | |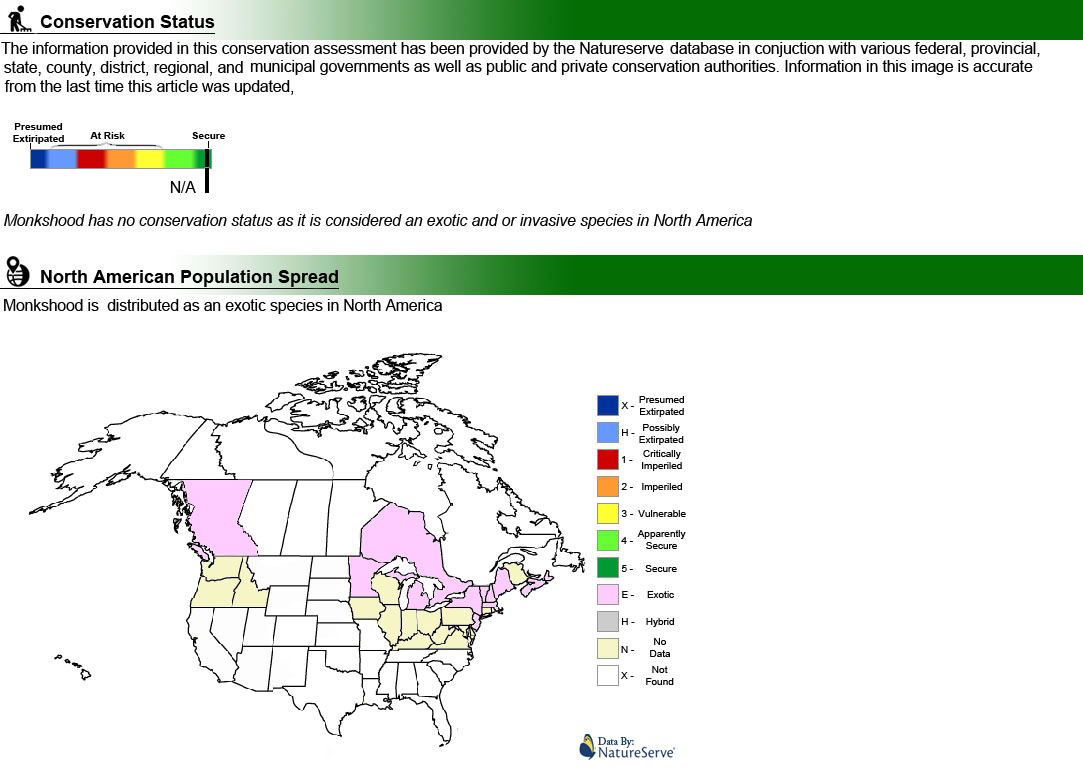 The MIROFOSS database offers free printable garden tags for personal and non-profit use. These tags can be used to properly identify plant samples in a garden. Click on the tags shown on the the screen or -click here- to download a full size jpeg image for a monkshood identification tag; which can be printed on paper or used with a plastic laser printer.

What's this?
This is a QR code (short for Quick Response) which gives fast-track access to MIROFOSS articles. QR Codes are barcodes that can be read by smart phone cameras. This QR Code is unique to this MIROFOSS article.

What can I do with it?
You can copy and print the QR code to a plant label, poster, book, web site, magazines, or newspaper so smart phone users can scan the QR Code which automatically takes them to this specific article.

Background
Kartesz, J.T. 1994. A synonymized checklist of the vascular flora of the United States, Canada, and Greenland. 2nd edition. 2 vols. Timber Press, Portland, OR.
Background
Hay, R. (Consultant Editor) second edition 1978. Reader's Digest Encyclopedia of Garden Plants and Flowers. The Reader's Digest Association Limited.
Background
Armitage, A. M. 2000. Armitage's garden perennials a color encyclopedia. Portland, Oregon: Timber Press
Biology
Roberts, M. F., and Michael Wink. 1998. Alkaloids biochemistry, ecology, and medicinal applications. New York: Plenum Press
Biology
Lin CC, Chan TY, Deng JF (May 2004). "Clinical features and management of herb-induced aconitine poisoning". Ann Emerg Med. 43 (5): 574–9.
Environment
National Audubon Society. Field Guide To Wildflowers (Eastern Region): Alfred A. Knopf. ISBN 0-375-40232-2
Physical Identification
National Audubon Society. Field Guide To Wildflowers (Eastern Region): Alfred A. Knopf. ISBN 0-375-40232-2
September 04, 2016
The last time this page was updated
©2019 MIROFOSS™ Foundation