Heath Aster is a species of flowering plant in the aster family, native to much of North America, as well as northern Mexico. It has also been introduced to many areas beyond its native range. Heath aster grows from Canada across much of the United States into the Mexican states of Coahuila and Nuevo León.


Heath Aster have been sold in the horticultural trade as an ornamental plant.

Within the realm of rational and holistic medicine, there are no documented uses of heath aster.
Please note that MIROFOSS does not suggest in any way that plants should be used in place of proper medical and psychological care. This information is provided here as a reference only.


There is currently no documented information about the edibility of heath aster.
Please note that MIROFOSS can not take any responsibility for any adverse effects from the consumption of plant species which are found in the wild. This information is provided here as a reference only.


Heath Aster prefers open locations with sandy, gravelly, or disturbed soil. Suitable for: light (sandy), medium (loamy) and heavy (clay) soils and prefers well-drained soil. Suitable pH: acid, neutral and basic (alkaline) soils and can grow in very acid and very alkaline soils. It cannot grow in the shade. It prefers moist soil.
| | |
| --- | --- |
| Soil Conditions | |
| Soil Moisture | |
| Sunlight | |
| Notes: | |


Heath Aster is a herbaceous perennial with stems from 30cm to 90cm tall. Its leaves are subulate and narrow, and become smaller towards the end of the stems and branches. It has white or rarely pinkish, daisy-like composite flower heads with yellow centers that appear in late summer through autumn). The flowers are 8mm to 10mm across. Heath Aster spreads by underground rhizomes to form colonies.

Plant Height
30cm to 90cm
Habitat
Fields, Roadsides, Waste places
Leaves
Subulate
Leaf Margin
Entire
Leaf Venation
Pinnate
Stems
Smooth Stems
Flowering Season
August to November
Flower Type
Medium sized clusters of ray flowers
Flower Colour
White
Pollination
Bees, Self Fertile
Flower Gender
Flowers are hermaphrodite and the plants

are self-fertile

Fruit
Underground Rhizomes
USDA Zone
3A (-37.3°C to -39.9°C) cold weather limit


No known health risks have been associated with heath aster. However ingestion of naturally occurring plants without proper identification is not recommended.

| | |
| --- | --- |
| | -Click here- or on the thumbnail image to see an artist rendering, from The United States Department of Agriculture, of heath aster. (This image will open in a new browser tab) |


Heath Aster can be translated into the following select languages:
| | | | | | |
| --- | --- | --- | --- | --- | --- |
| Arabic | هيث، أستير | Bulgarian | | Chinese (Sim) | 希斯翠菊 |
| Croatian | | Czech | | Danish | |
| Dutch | | Esperanto | | Estonian | |
| Finnish | | French | | German | |
| Greek | | Hebrew | האסטר אסטר | Hungarian | |
| Italian | | Japanese | ヒースアスター | Korean | 히스 애 스터 |
| Low Saxon | | Lithuanian | | Norwegian | |
| Persian | سرماخوردگی | Polish | | Portuguese | |
| Romanian | | Russian | пустоши | Slovak | hviezda |
| Spanish | | Swedish | | Tagalog | |
| Turkish | | Ukrainian | шум астра | Vietnamese | |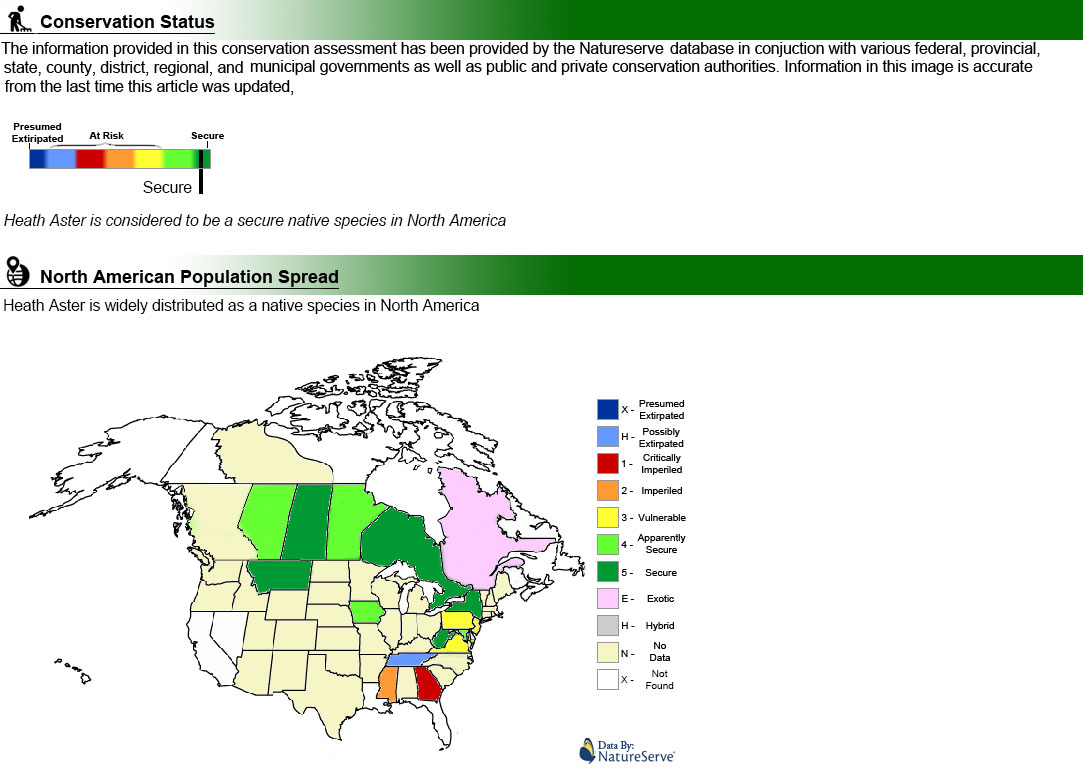 The MIROFOSS database offers free printable garden tags for personal and non-profit use. These tags can be used to properly identify plant samples in a garden. Click on the tags shown on the the screen or -click here- to download a full size jpeg image for a heath aster identification tag; which can be printed on paper or used with a plastic laser printer.

What's this?
This is a QR code (short for Quick Response) which gives fast-track access to MIROFOSS articles. QR Codes are barcodes that can be read by smart phone cameras. This QR Code is unique to this MIROFOSS article.

What can I do with it?
You can copy and print the QR code to a plant label, poster, book, web site, magazines, or newspaper so smart phone users can scan the QR Code which automatically takes them to this specific article.

Description
Kartesz, J.T. 1999. A synonymized checklist and atlas with biological attributes for the vascular flora of the United States, Canada, and Greenland. First edition. In: Kartesz, J.T., and C.A. Meacham. Synthesis of the North American Flora, Version 1.0. North Carolina Botanical Garden, Chapel Hill, N.C.
Description
Peterson, Roger Tory; Margaret McKenny (1969). Peterson Field Guides Wildflowers Northeastern and North-central North America. New York: Houghton Mifflin Company. pp. 96–Heath Aster 358–Willow 358–Prairie. ISBN 0-395-91172-9.
Biology
Brouillet, Luc; Semple, John C.; Allen, Geraldine A.; Chambers, Kenton L.; Sundberg, Scott D. "Symphyotrichum ericoides". Flora of North America (FNA). Missouri Botanical Garden. 20 – via eFloras.org. 2006, p. 424
Biology
Dickinson, T.; Metsger, D.; Bull, J.; & Dickinson, R. (2004) ROM Field Guide to Wildflowers of Ontario. Toronto:Royal Ontario Museum,
Image Rendering
USDA-NRCS PLANTS Database / USDA NRCS. Wetland flora: Field office illustrated guide to plant species. USDA Natural Resources Conservation Service.
Environment
National Audubon Society. Field Guide To Wildflowers (Eastern Region): Alfred A. Knopf. ISBN 0-375-40232-2
Physical Identification
National Audubon Society. Field Guide To Wildflowers (Eastern Region): Alfred A. Knopf. ISBN 0-375-40232-2
November 26, 2017
The last time this page was updated
©2021 MIROFOSS™ Foundation