The janie series of French Marigold is an annual plant thought to originate in Mexico. The botanical name patula means "to spread." In relation to other Marigolds, the janie series is considered to be a more dwarfed variety, with plants reaching only 15cm to 20cm at maturity.


The janie series of French Marigold is used mainly in flower gardening and is used mainly as an edging plant on herbaceous borders and commonly planted in butterfly gardens as a nectar source. French Marigold florets are grown and harvested annually to add to poultry feed to help give the yolks a golden colour. The florets can also be used to colour human foods. A golden yellow dye is used to colour animal-based textiles (wool, silk) without a mordant, but a mordant is needed for cotton and synthetic textiles. The plant is also harvested for essential oils used in perfumes. The essential oil is being investigated for antifungal activity, including treatment of candidiasis and treating fungal infections in plants.

Within the realm of naturopathic medicine and folklore, French Marigold has been used medicinally by many cultures that would create infusions from dried leaves or florets. French Marigold has also be planted around other food crops as it is believed to ward off various pests within the garden.
Please note that MIROFOSS does not suggest in any way that plants should be used in place of proper medical and psychological care. This information is provided here as a reference only.


The dried and ground flower petals of French Marigold constitute a popular spice in the Republic of Georgia in the Caucasus, where they are known as imeruli shaphrani 'Imeretian Saffron' from their pungency and golden colour and particular popularity in the Western province of Imereti. The spice imparts a unique, rather earthy flavour to Georgian cuisine, in which it is considered especially compatible with the flavours of cinnamon and cloves. It is also an essential ingredient in the spice mixture khmeli-suneli.
Please note that MIROFOSS can not take any responsibility for any adverse effects from the consumption of plant species which are found in the wild. This information is provided here as a reference only.


In it's natural environment, French Marigold grows in pine and oak forests. The flower is an annual, occasionally reaching 50cm by 30cm. In some climates it flowers from July to October. In its native habitat of the highlands of central Mexico, blooms are produced from September to killing frost. French marigold can grow in light (sandy), medium (loamy) and heavy (clay) soils. French Marigold is most successful in moist, well drained, soil. French Marigold cannot grow in shade.
| | |
| --- | --- |
| Soil Conditions | |
| Soil Moisture | |
| Sunlight | |
| Notes: | |


French Marigold are low growing plants with blended variations of red, yellow, and orange flowers. The heads of the French Marigold flower contain mostly hermaphrodite (having both male and female organs) florets and are pollinated primarily by beetles in the wild, as well as by tachinid flies and other insects. The leaves and roots of all species of marigold include oil glands. The oils are pungent and are believed to kill nematodes in the soil and it is said to repel harmful insects, such as white flies on tomatoes. Within two weeks of the start of bloom, the achenes, seeds, ripen on the French Marigold and are shed.

Plant Height
15cm to 20cm
Habitat
Gardens, Light forested areas, Waste Places
Leaves
Even Pinnate
Leaf Margin
Serrate
Leaf Venation
Pinnately lobed
Stems
Straight stems with many nodes
Flowering Season
May to November
Flower Type
Rounded clusters of 20mm to 30mm flowers
Flower Colour
Red, Orange, Yellow
Pollination
Insect
Flower Gender
Flowers are hermaphrodite
Fruit
Long tufted seeds
USDA Zone
9B (-1.2°C to -3.8°C) cold weather limit


There are currently no noted hazards when handling or choosing a location to plant French Marigold.


| | |
| --- | --- |
| | -Click here- or on the thumbnail image to see an artist rendering, from The United States Department of Agriculture, of French Marigold (This image will open in a new browser tab) |

| | |
| --- | --- |
| | -Click here- or on the thumbnail image to see a magnified view, from The United States Department of Agriculture, of the seeds created by French Marigold for propagation. (This image will open in a new browser tab) |


French Marigold can be translated into the following select languages:
| | | | | | |
| --- | --- | --- | --- | --- | --- |
| Arabic | القطيفة (جاني) | Bulgarian | невен (Джени) | Chinese (Sim) | 万寿菊(珍妮) |
| Croatian | neven (Janie) | Czech | měsíček lékařský (Janie) | Danish | morgenfrue (Janie) |
| Dutch | goudsbloem (Janie) | Esperanto | | Estonian | saialille (janie) |
| Finnish | kehäkukka (Janie) | French | souci (Janie) | German | Ringelblume (janie) |
| Greek | κατιφέ (Janie) | Hebrew | ציפורני חתול (ג 'ייני) | Hungarian | körömvirág (Janie) |
| Italian | calendula (janie) | Japanese | マリーゴールド(JANIE) | Korean | 마리 골드 (제이니) |
| Hindi | मैरीगोल्ड (जॉनी) | Lithuanian | medetkų (Janie) | Norwegian | blomst (Janie) |
| Persian | گل همیشه بهار (جینی) | Polish | aksamitki wzniesionej (Janie) | Portuguese | calêndula (Janie) |
| Romanian | galbenele (Janie) | Russian | календулы (Дженни) | Slovak | nechtík lekársky (Janie) |
| Spanish | caléndula (Janie) | Swedish | ringblomma (janie) | Tagalog | amarilyo (janie) |
| Turkish | kadife (Janie) | Ukrainian | календули (Дженні) | Vietnamese | cúc vạn thọ (Janie) |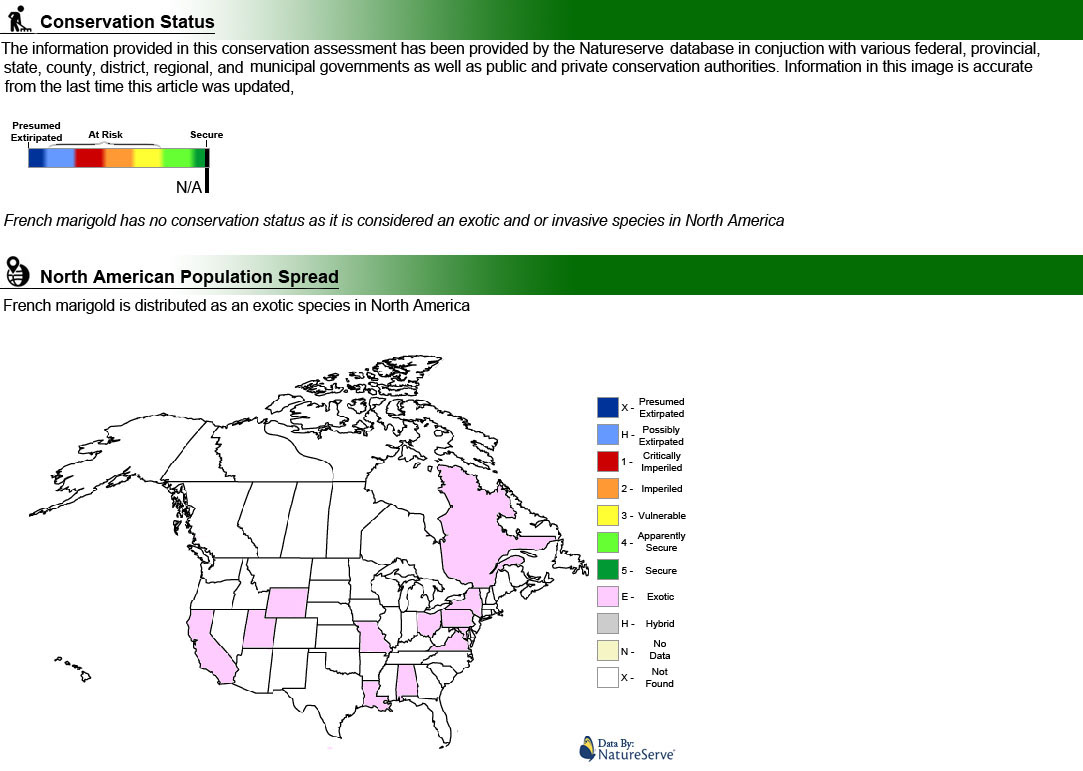 The MIROFOSS database offers free printable garden tags for personal and non-profit use. These tags can be used to properly identify plant samples in a garden. Click on the tags shown on the the screen or -click here- to download a full size jpeg image for a Janie Series French Marigold (janie series) identification tag; which can be printed on paper or used with a plastic laser printer.

What's this?
This is a QR code (short for Quick Response) which gives fast-track access to MIROFOSS articles. QR Codes are barcodes that can be read by smart phone cameras. This QR Code is unique to this MIROFOSS article.

What can I do with it?
You can copy and print the QR code to a plant label, poster, book, web site, magazines, or newspaper so smart phone users can scan the QR Code which automatically takes them to this specific article.

Description
Brickell. C. The RHS Gardener's Encyclopedia of Plants and Flowers
Description
Riotte. L. Companion Planting for Successful Gardening.
Biology
Mares D, Tosi B, Poli F, Andreotti E, Romagnoli C. (2004). "Antifungal activity of Tagetes patula extracts on some phytopathogenic fungi: ultrastructural evidence on Pythium ultimum". Microbiol Res. 159 (3): 295–304.
Biology
Soule, J. A. 1993. "The Biosystematics of Tagetes" Ph.D. Dissertation, University of Texas
Folklore
Goldstein D. 1993 "The Georgian Feast" HarperCollins
Image Rendering
USDA-NRCS PLANTS Database / USDA NRCS. Wetland flora: Field office illustrated guide to plant species. USDA Natural Resources Conservation Service.
Environment
National Audubon Society. Field Guide To Wildflowers (Eastern Region): Alfred A. Knopf. ISBN 0-375-40232-2
Physical Identification
National Audubon Society. Field Guide To Wildflowers (Eastern Region): Alfred A. Knopf. ISBN 0-375-40232-2
March 10, 2015
The last time this page was updated
©2021 MIROFOSS™ Foundation